Hrádek Castle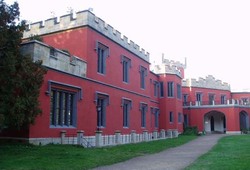 Hrádek Castle is a dominating cultural and tourism feature of the Nechanice Micro-Region.
The original Harrach residence was built in 1839 - 1857 by order of František Arnošt, Earl of Harrach in the Tudor Gothic style.
Work on this impressive construction was conducted by the Viennese architect Karel Fischer. He used Crewe Hall Castle in Cheshire, England as a model. The decoration of the castle interiors was also carried out according to Fischer's plans. Stonemason Josef Kranner and sculptor Josef Max were involved in this interior work. The halls and chambers of the castle are magnificently decorated with a number of original objects d'art and historical household-goods.
At the moment, the Castle façade is being restored, returning it to its original red colour.